Special Edition Teacher Feature/Spanish Exchange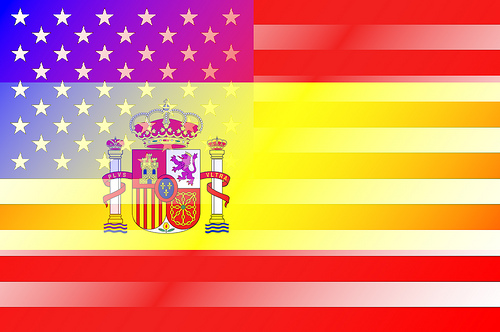 Dan Manganello and Miles Brancatella, Staff Writers
October 28, 2015
For those of you who do not know who Professor Powers is, here is a little background information about him. Profe was born in Massachusetts but later in his childhood, he moved to New Hampshire, where he attended Salem High School. After graduating high school, he attended Quinnipiac College in Connecticut. At Quinnipiac, he studied abroad in Spain, which helped him fall in love with the language. Following his time at Quinnipiac, he then attended Boston College, where he studied Hispanic studies and Communications. Profe also taught the intermediate level courses as a graduate student at BC. He continued his passion for Spanish culture by teaching English in Spain. Further, when he is not teaching languages, he enjoys playing tennis and spending time in Jersey City, where he currently resides.
When Profe came to teach at Saint Peter's Prep three years ago, he saw the absence of the Spanish Exchange Program at school. All of the other language departments in the school had an exchange program in which they would invite students to Prep for two weeks and then travel overseas to spend time with their exchange students for another two weeks. As a result of this absence, he did his best to revitalize the Spanish Exchange Program. As a result, many of his students last year were able to participate in the Spanish Exchange.
Last year, being the first year of the Spanish Exchange, Profe needed to find a school to partner with. Luckily for him, the Spanish program always organized a two-week trip to a school in Barcelona, San Ignacio, a fellow Jesuit institution. Thus, he used the other language departments' programs as models and emulated them to his best ability, which ultimately resulted in an amazing experience for the students.
The goal of the Spanish Exchange is not only to invite students from Spain to Prep, but also to travel abroad in return to immerse themselves in Spanish culture. Prep provides a place for the traveling students to learn about our culture and for us to learn in return. The program's aim is to allow students to make comparisons and connections with their exchange partners. Profe believes that this is one of the best ways for the students to learn as they must do it first hand. When Prep students go to Spain, it is reciprocal in the fact that the students can now immerse themselves in the culture there and attempt to learn and make their own comparisons. When the Spanish students first arrived, there was a combination of in-class activities and cultural excursions outside of class. For example, the students visited the Statue of Liberty and the Empire State Building. Also, each shadowed a Prep student and took individual classes. The same goes on in Spain; Prep students take individual classes and shadow their Spanish students.
One thing that Profe especially likes about the Spanish Exchange is how exciting it is to see when the students immerse themselves in the culture. Students always talk about how they eat at different times, but it isn't until a student comes up to Profe saying, "They aren't hungry for lunch until 3!" that he really sees that students are learning about their partner's lives and customs. Overall, the Spanish Exchange is a great program at Prep and one that really expands a student's perception of culture and his understanding of the world around him.