2018 World Cup: Predictions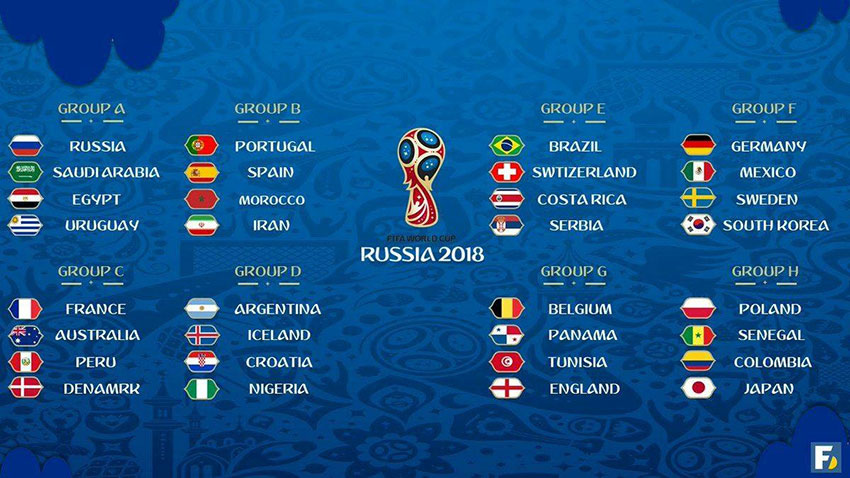 Jay Post '20, Staff Writer
December 16, 2017
On December 1st, for perhaps the first time in history, in one of the most iconic buildings in the world, an event was held which wouldn't affect (political) global affairs. Instead of the usual secret discussions pertaining to political strategy, the Kremlin held host to the 2018 World Cup Draw. The draw determined the matchups for the first round of the competition that is coming to Russia this summer.
Some countries came out of the draw a bit worse for wear, such as Morocco who will have to face the likes of Iberian giants Portugal and Spain. Other countries, however, like Uruguay, received favorable groups, with La Celeste drawing comparative minnows Russia, Egypt, and Saudi Arabia. While no group immediately stands out across the board, a group to look out for would be D, which contains four solid squads in Argentina, Iceland, Croatia, and Nigeria.
Predictions for Group Standings
Group A Predicted Placement-
Uruguay
Question: Who will emerge as Uruguay's star: the streaky Edinson Cavani or the ageing Luis Suarez?
Egypt
Question: Will Salah be able to keep up his form without the same quality of teammates surrounding him?
Russia
Question: Will Russia be able to hold onto games with a severe lack of pace in its backline defenders?
Saudi Arabia
Question: Will the Saudi League be able to prove itself on the World Stage?
Group B Predicted Placement-
Spain
Question: Who will emerge as the stars of the Spanish team – young starlets like Marco Asensio and Isco, or an older veteran like Andres Iniesta?
Portugal
Question: Which Ronaldo will show up – Champions League Ronaldo or La Liga Ronaldo?
Iran
Question: Will Iran prove its stellar qualifying campaign wasn't just due to weak composition?
Morocco
Question: Will Boufal be able to carry his team to the round of 16?
Group C Predicted Placement-
France
Question: Who will lead the line – traditional target-men in Olivier Giroud and Antoine Griezmann or new faces such as Alexandre Lacazette and Kylian Mbappe? Could it be a combination?  
Peru
Question: Will Peru be able to shutdown games if it takes a lead?
Denmark
Question: Will Ericksen be able to carry his team ahead like he did vs Ireland?
Australia
Question: What does Tim Cahill have left in the tank in what is likely his last World Cup?
Group D Predicted Placement-
Argentina
Question: Who will step up in the midfield to support Messi?
Iceland
Question: Will Iceland's magic be gone now that it is considered an advanced contender by many?
Nigeria
Question: As the youngest squads in the tournament, who will mature and become the leader on the team?
Croatia
Question: Will Subasic be able to keep the opposition out of the net despite the shaky defense in front of him?
Group E Predicted Placement-
Brazil
Question: Can Brazil correct the tactical issues that led to its downfall in the 2016 Copa America?
Switzerland
Question: Will this tournament be Xhaka's last chance to prove himself to Arsenal fans and management? What can he do to show his abilities?
Costa Rica
Question: Will Keylor Navas be as solid as he was during the qualifiers?
Serbia
Question: Will Serbia's experience give it an advantage over younger teams like Switzerland?
Group F Predicted Placement-
Germany
Question: Just how good will Germany be now that the team has a proper striker in Timo Werner?
Sweden
Question: Will Zlatan stay true to his word and remain in retirement?
Mexico
Question: Can Ochoa recreate his heroics in the 2014 World Cup?
South Korea
Question: How will a depleted South Korean side hold up against the likes of creative players such as Emil Forsberg and Leon Goretzka?
Group G Predicted Placement-
Belgium
Question: Will a stacked Belgium squad, notorious for not being able to perform, finally show up on the world stage?
England
Question: Will England sort out the tactics that caused its failures in the 2016 Euros and its respective successes in the qualifying campaign?
Panama
Question: Will Panama show the same fire and intensity it did towards the end of the qualifying campaign?
Tunisia
Question: How will Tunisia get results against teams containing much more quality, such as England and Belgium?
Group H Predicted Placement-
Poland
Question: Will Robert Lewandowski prove he is the best striker in the world?
Columbia
Question: Will James Rodriguez spark the team like he did in 2014?
Senegal
Question: How will one of the best teams in Africa hold up against giants from across the globe?
Japan
Question: Which previously unknown players from the J-League will make their mark on the global stage?