How NHL Teams Rise and Fall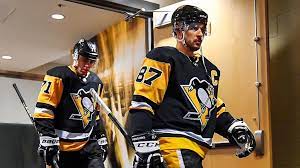 As an avid hockey fan of the New York Rangers (cue all jokes about the draft lottery, which was NOT rigged), I got to see firsthand my team rise to greatness and fall down to the depths of the league. I wondered how teams got to be this way. There are so many examples of rising and falling in the NHL that it is so hard to keep track. Is a team falling hard, like the San Jose Sharks? Has it been getting too good too fast, like the Rangers? Has it always been in the depths of the league for as long as we could remember, like the Arizona Coyotes? There are so many scenarios that determine these, so I will try my best to break down how NHL teams get on the rise fast, and how they fall to their depths. I will be talking mostly about certain teams and what they've been doing to accomplish these good, and bad, goals.  
I'll rip the bandaid off nice and early with a bad scenario. Picture the Pittsburgh Penguins right now. In 2016 and 2017, they managed a feat that has not been accomplished in over 20 years. They won the Stanley Cup two years in a row.  There were five key players that were the backbone of those two runs: Sidney Crosby, debatably the second-best playmaker of all time; Evgeni Malkin, a giant, bruising power forward capable of putting up goals and assists; Phil Kessel, although recently acquired from the Toronto Maple Leafs, was a genuine fit in Steel City and was a legitimate sniper ever since he was in the NHL; Defensemen Kris Letang was a typical stay-at-home defenseman, but on top of that his offensive production was great as well; and goaltender Marc-Andre-Fleury was the backbone of it all, stopping pucks in crunch time, as well as helping backstop an amazing Pittsburgh defense.
Now, when all is described about all of these players, I am now going to tell you where they are now, what age they are right now, and how their future is looking. Crosby is currently 33, exiting his prime, but he will always be a force in the league, even as he ages. Malkin is 34 and is in a slow decline. Kessel was traded to Arizona, where he puts up goals but not much else. Letang is also 33, and is in a slow decline as well, as most aging defensemen are in their early thirties.  And lastly, Fleury was swiped from the Penguins by the Vegas Golden Knights in the 2017 expansion draft, where he is now the backup to Robin Lehner.
This proves that time is linear.
The Penguins have done everything to keep the core together, but as of now their youngest forward is 24, and their youngest defenseman is 23. To add insult to injury, here is a very important draft stat: Between 2014 and 2020, the Pittsburgh Penguins have had a 1st round pick only twice: in 2014 and in 2019. In 2014 the Penguins selected Kasperi Kapanen, who, after just one year, was sent to the Toronto Maple Leafs in a giant package that brought the Penguins Phil Kessel. Kapanen was traded back to Pittsburgh a few months ago for a 1st round pick in 2020, who the Leafs used to select Rodion Amirov, a player with a lot of talent. In 2019 the Penguins selected Samuel Poulin, who they still have, although he is putting up respectable numbers in his junior league. 1st round picks are supposed to have sensational point productions; however, Poulin's is just average. So from all of these facts that I've spit at you, it is no wonder that the Penguins are in a decline, and that they will eventually fall into the basement of the league.
One of the most eye-catching teams to look out for this coming NHL season are the New York Rangers because of all of their young talent. Recently, the New York Rangers have drafted exceptional players, and have developed them into great players.
Starting in 2018, the Rangers had three first round picks: 9th, 22nd, and 28th picks.  With the 9th overall pick the Rangers selected Vitaly Kravtsov from Russia. The 6'3" winger is a force to be reckoned with in the KHL, scoring nine goals in 30 games. Although that does not seem like a lot there are two reasons. The first reason is that the KHL, in Russia, is a very low scoring league. The second reason is that Kravtsov is competing against men who are bigger and stronger than he is. It is also very hard for a teenager to crack a KHL lineup, so for him to have this much success at this young age will set him up to play at least 200 games for the Rangers, but hopefully more. With the 22nd overall pick, the Rangers selected K'Andre Miller, a 6'5" defenseman out of the US National Development Program in Michigan. He is already playing in the minors for the Rangers, and I truly believe that he will become a phenomenal defenseman in the NHL. Combined with his giant frame, and his ability to make plays, he can be a force to be reckoned with. Lastly, out of this draft, the Rangers selected Nils Lundqvist, out of Sweden.  The defenseman, although only 5'11", has the ability to make plays in tight situations. He can control the mood of the game with his playing style, and he has 12 points in 21 games in the SHL, Sweden's top men's league. Again, this is not a high scoring league, and it is hard for teens to make it into this league, so for him to be doing so well can make Rangers fans very happy with his play. Looking at this, combined with every other prospect already on the Rangers or developing, they will be a team that is competing for a Stanley cup in the next few years.  
Another thing that teams have to worry about is money. The NHL is a hard-cap league, with a maximum cap of $81.5 million. And although there are a trillion ways to circumvent the cap, it can be hard to do so. If many players with expiring contracts are coming to an end, you might need to say goodbye to them. The San Jose Sharks, who made it to the final four in the 2019 playoffs, had to say goodbye to a very important cornerstone to their franchise. Captain Joe Pavelski left because the Sharks were tight against the cap, meaning they did not have enough money to re-sign him.  The gifted center had to take his talents to the Dallas Stars, whereas the Sharks plummeted, not even making the playoffs in 2020, and losing their 1st round pick, which was 3rd overall mind you, to a horrible trade. Examples such as these can lose your teams' trust, its morale, and the collective will to win hockey games. There was a reason that Pavelski was dubbed "Captain America" by Sharks fans, and that he was captain for a few years. The team was clearly affected by his loss and their results showed that.
Lastly, a beneficial way that teams can rise fast is through their mindset. I will again refer back to the Pittsburgh Penguins, who, in 2016 and 2017 had a winning mentality. They were willing to put in the extra hours skating to make sure that they can be as fast as humanly possible. They were willing to work out on a Sunday at 6:00 AM instead of sleeping in and watching Netflix. The older veterans encouraged the young rookies to mimic them, because they know that their winning mentality is infectious around the whole team. Mentality is 50% of a hockey game. Players need to have the will to try their hardest on every shift, and to skate as fast as they can even though they are out of breath. That mentality, in my opinion, won the Penguins two Stanley Cups, especially the second one. 
NHL teams rise and fall every year.  It happens, and it takes you by surprise. These examples can help teams keep their names in the Cup conversation by drafting well and having the right mentality.