Stronger: Transcending Archetypes, Shredding Clichés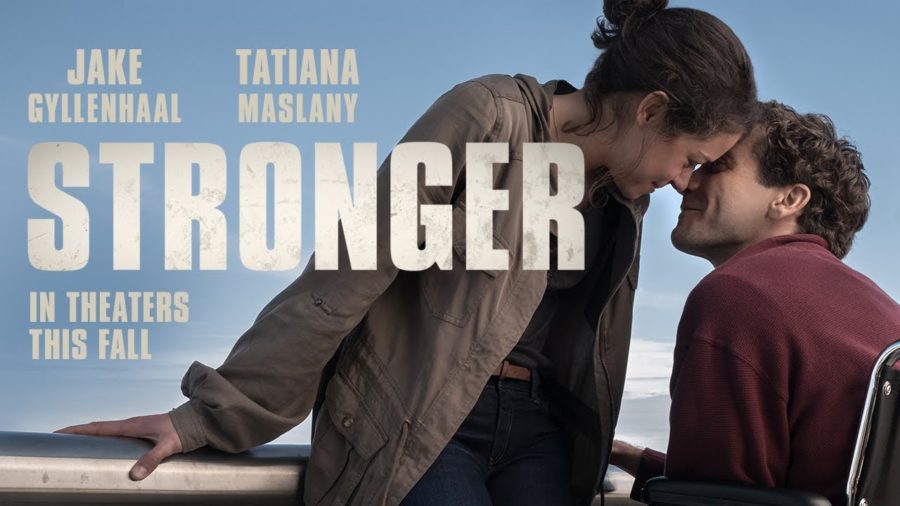 James Paradiso '17, Editor in Chief
October 18, 2017
Towards the beginning of Stronger, the new film directed by David Gordon Green, the director films one of the most beautiful scenes in recent cinema. Jeff Bauman has just been hospitalized, his legs amputated above the knee after surviving the bomb at the Boston marathon. Bauman, played by Jake Gyllenhaal, prepares himself for the undressing and redressing of his garments covering his amputated limbs for the first time. In a shallow shot, where Bauman's limbs are blurred, his face and emotions are blatantly visible. Later in his journey he is attributed to the movement "Boston Strong" and a symbol for overcoming struggles–yet now he was alone with his own agony. His then-ex-girlfriend, Erin Hurley (Tatiana Maslany) comes into shot from the left. Green's directorial mastery is shown through his shots evoking intimacy–the shallow focus promoting the distance between Bauman's personal struggle and the hero his family and city paints him as.
In this dramatic, true story, Green employs tragedy, love, and achievement in a specific manner that transcends common cliché archetypes and the platitudinous title of the film. Rather than rallying to the "Boston Strong" cries that films like 2016's Patriot's Day attempted to do, Stronger distinctly focus on Bauman's physical and mentally struggle portrayed so powerfully by the Oscar-worthy performances from Gyllenhaal and Maslany.
Our first introduction to Bauman is him as a loving, comical, and typical Bostonian. He sees his ex-girlfriend, Erin, at a local bar and promises that he will be there at the finish line for her during the Boston marathon where he receives his injuries while waiting for her. Many of these details are revealed later in flashbacks. In this and other ways Stronger seems like a coming-home narrative of a soldier. He is admired in that same sense and his post-traumatic-stress disorder adds to this motif. Stronger is also carefully laced with bits of honest, much-needed comedy. With a subject so depressing and sad as this, Green's decision to incorporate a balanced comedy proved useful.
Stronger smartly maneuvers around the typical Boston drama (much like last year's Manchester by the Sea). In many scenes, the camera is tracked behind Bauman's head continuing the film's perspective through Jeff adding a seemingly personal, intimate aspect to Bauman's loneliness and overwhelmed attitude. Green also decisively weaves in the hardships a partner experiences when being a caregiver, delicately avoiding the portrayal of Erin Hurley as a device rather than a human. Maslany's work in the film is just as profound as Gyllenhaal with her ability to flesh out Hurley's trauma after the bombing.
The film is so raw and exposed at sometimes that it is often hard to watch. But it's exploration into trauma, relationships, the dichotomy between inward and outward struggles and its complete eclipse of clichés deem Stronger worthy of its praise.