Kicking It Old School: Cobra Kai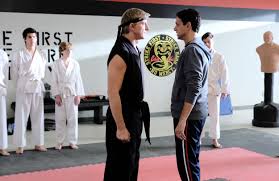 When our parents were growing up, they didn't have the Marvel Comics Universe, Toy Story, or Harry Potter to enjoy on the big screen. They were captivated by movies such as Back to the Future, Star Wars, and the wildly popular Karate Kid, which spawned two follow-up movies. Spoilers are ahead, but the movie is more than 35 years old. In it, Daniel LaRusso, who just moved into the impoverished Reseda area of Los Angeles from Newark, New Jersey, finds himself in trouble with Johnny Lawrence. After being bullied harshly, he runs into Mr. Miyagi, an older man who lives in the same apartment complex as the LaRusso family, and teaches him how to do karate in order to fight back against Lawrence and his bullying friends. They later face off at the All Valley Tournament, in which LaRusso, the underdog, beats Lawrence and wins the heart of Ali Mills, Johnny's ex-girlfriend. 
Fast forward to the present day, and LaRusso runs a successful automobile dealership in Los Angeles. He opens a karate dojo in honor of his sensei, and Miyagi-Do teaches kids a defensive form of karate for the same purpose that Mr. Miyagi had taught a young LaRusso. However, Johnny Lawrence and his sensei, Kreese, have come back as well with Cobra Kai, which teaches a doctrine of "no mercy" to its students. Throughout the series, the movie's events are thoroughly referenced, solidifying the connection between the original film and the new spin-off Netflix series. For me, it was helpful to have watched Karate Kid before starting the series despite these references. It would be like watching The Mandalorian without seeing Star Wars — the references are better understood and the TV show is even more captivating.
Cobra Kai's latest season is sure to put anyone who has seen the original film on a nostalgia trip unlike any other. And even without that nostalgia, the series is sure to impress anyone who is so intrigued to select it for their next Netflix binge-watch.