Rut's Reviews: Christmas Movies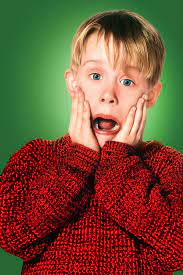 In the spirit of the Christmas season, we're going to take a break from the normally scheduled pop culture reviews and look at a very specific genre that is only relevant once a year: Christmas movies. Liam and I will rank each of our top ten movies, then give a review for one of the chosen movies from our list. The rankings will be based on how classic, rewatchable, funny, and Christmas-spirit-inducing a movie is.
I would like to start off by saying that there are so many Christmas movies, and that the subgenre within Christmas movies grow each year. Compared to the traditional movies where Santa saves the day and everyone gets presents, I recently saw a trailer for one that is very out of line with the uniform storyline of most Christmas movies. Violent Night is a movie where mercenaries invade a home, and Santa comes to save the day by fighting them off with weapons. There are a series of gunfights in this movie, which most do not associate with the usually merry and jubilant Santa. It's safe to say that movie theaters are running out of ideas for Christmas movies if this is the headliner for movie theaters on December 25.
Taking the top spot for Christmas movies in my opinion is Elf, starring Will Ferrell. This is a timeless classic filled with laughs that are appropriate for all ages. Even though everybody knows that this movie will end happily, it is very much worth it to see the whole movie through. Buddy the Elf is one of the most loveable, naive characters in Hollywood. Ferrell does a phenomenal job of getting into his ignorant character throughout the movie. My favorite scene is when he talks to the publisher and can not help commenting on the publisher's height. The tension and resulting fistfight between the two characters is enough to make anyone burst out laughing. While comedy serves as the highlight of the film, the movie still includes a romantic plot line, making Elf enjoyable for those who are looking for a warm-hearted story. I have never met someone who does not like this movie; there is something every viewer can look forward to.
Elf (2003)
Home Alone (1990)
A Christmas Story (1983)
Rudolph The Red-Nosed Reindeer (1964)
National Lampoon's Christmas Vacation (1989)
Prep & Landing (2009)
Bad Santa (2003)
How the Grinch Stole Christmas (2000)
Frosty the Snowman (1969)
The Elf on the Shelf: An Elf's Story (2010)
I realize I may be missing some movies, but these are ones I have gathered around with my family to watch on the holidays, as I imagine most have. Many on this list are must-haves for any family, like Rudolph The Red-Nosed Reindeer and Home Alone, but others like Bad Santa are not very family-friendly, but hilarious nonetheless. Although I would not go so far as to call these movies peak cinematography, most are too classic to not like or too funny to not enjoy.
_______________________________________________________________________________________________
This is Liam, writing about the most wonderful time of the year! Literally! Nothing is better than the Christmas spirit, and what makes it so good are the movies! I will also be diving into one of my favorite Christmas movies.
At my top spot I have the one and only, Home Alone. Not only is Home Alone one of my favorite Christmas movies, but it may be one of my favorite movies in general. The comedy, suspense, and Christmas spirit all in one make it a masterpiece of a film! I don't want to spoil the movie for any of you who haven't seen it yet, so stop wasting your time! Go watch it! There is a young boy named Kevin McAllister who has an amazingly large family over for the holidays. The McAllisters decide to spend their Christmas in Paris. Well, let's just say things don't go as planned. Kevin is left behind and is, you guessed it, home alone! While his family tries to check in on him, two bandits want to break into the McAllister's house because they think no one is home. Kevin ends up proving that theory wrong. That being said, I know this movie is a favorite, I recommend you and your family watch it over the break. 
Home Alone

Elf

A Christmas Story

National Lampoon's Christmas Vacation

Frosty The Snowman

Rudolph The Red-Nosed Reindeer

It's A Wonderful Life

How The Grinch Stole Christmas

A Charlie Brown Christmas

The Polar Express
This is my list of my top ten favorite Christmas movies. These movies are comedic, iconic and some even inspirational! Although I may have missed a few, I believe these are the ten best Christmas movies.