Teacher Feature: Mrs. Mary Anne McElroy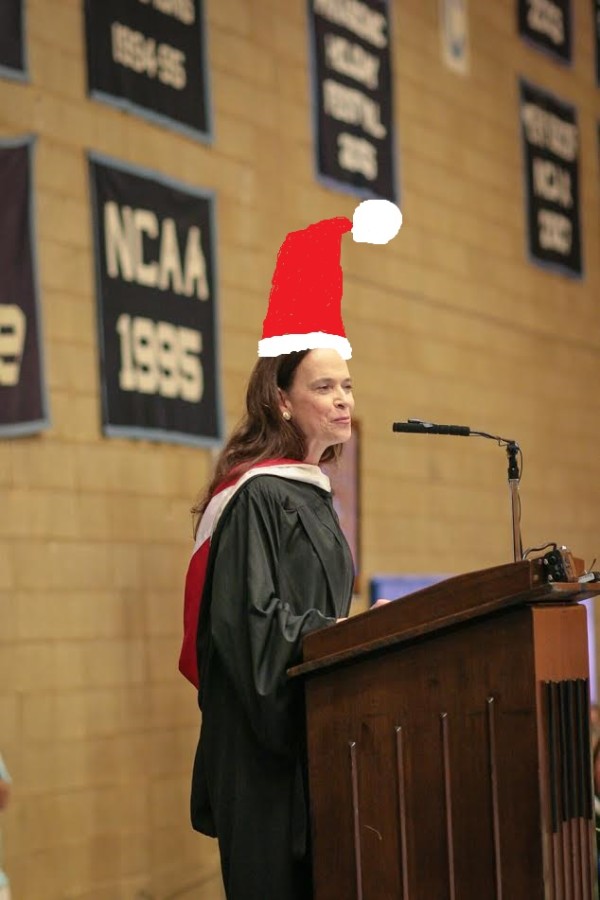 Kyle Bowes '15, Staff Editor
December 19, 2014
Entering junior year is very exciting for many students as they officially become upperclassmen. Most are anxious because junior year comes along with an immense workload, SAT's, and leadership in sports and clubs. However, in the past few years, the largest fear among rising juniors has been AP United States History. This rigorous course, also known as "APUSH", is taught by none other than Mrs. Mary Anne McElroy.
Mrs. McElroy, of Irish descent, grew up on the Air Force Bases in Japan and Illinois. Once her father left the Air Force, McElroy and her family moved to Clinton Hill in Brooklyn, NY. In high school, Mrs. McElroy was a very dedicated student who embraced the Prep ideal of Openness to Growth. As a student, she took part in many extracurricular activities such as the Hispanic Club, Celtic Club, Student Council, and Dramatics. After graduating high school, the aspiring teacher went on to study at St. Joseph's College in Brooklyn, NY. During her four years in Standish, Maine, Mrs. McElroy developed a strong fervor for history. At the time, becoming a teacher was a perfect fit for her family's needs. After being accepted, she decided to focus on her favorite subject.
For a number of years, Mrs. McElroy was a history teacher at St. Saviour High School, an all-girls school located in Brooklyn. Simultaneously, McElroy also worked as an adjunct history professor at numerous colleges in the area. After years of studying and teaching history, George Washington has become McElroy's favorite president, "Because unlike other presidents, GW is who you think he is. An honorable man who tried his best and created every aspect of the Presidency of the US. He could have been a dictator and he walked away from that. Pretty amazing."
It was not until 2004 when Mrs. McElroy joined the Prep community and thus the epic AP US class commenced. This year, however, the history course will see new changes with the employment of Chromebooks. While Mrs. McElroy likes the notion of Chromebooks, she fears that they can distract students from paying attention in classes. Chromebooks will change the way outlines, AMSCO ID's, and notes are completed. There are also new changes to the AP Test. This May, AP students will see more passage-based questions rather than the usual factual-based questions.
Faith is a big part of Mrs. McElroy's life. At the beginning of each class period, she and her class recite the Hail Mary prayer. Appropriately, one of McElroy's favorite part of Prep is the retreat programs: "I have done Emmaus. One of the great benefits of Prep is our incredible retreat program which benefits all of us. We are very lucky to have it." Despite being a very dedicated teacher, Mrs. McElroy has many other interests and commitments outside of Grand and Warren. For example, she loves to read, knit, and conduct research on the history of New York City. The history guru occasionally gives walking tours throughout the city (and on Prep day), and tells her groups about the historical aspects of each place they visit. Mrs. McElroy is also a very proud mother who has sent all of her children to prestigious colleges throughout the country.
Sunday's determine McElroy's mood for the entire week as she is a very big football fan. Her favorite college team is Notre Dame and her favorite NFL team is the New York Jets, despite the rough years that they have recently endured. Another thing that most students and faculty would not know is that McElroy used to be a music reporter for the Associated Press and enjoyed interviewing many of her favorite bands back in the day.
Now in her tenth year at Prep, Mrs. McElroy explained to us what she enjoys most about the community, "I love the companionship of the faculty as well as the viewpoints of the students. Someone makes me laugh every day." We are very lucky to have a teacher as knowledgeable and enthusiastic as Mrs. McElroy at Prep. Every student who decides to challenge himself with AP US course not only gets a quality education in history, but also many life lessons taught in class by Mrs. McElroy. Not to mention, her classes produce some of the highest AP testing scores in the country! We thank Mrs. McElroy for her thorough, reflective interview and wish her the best of luck this year!