Student Reflection: The Pilgrimage for Pope Francis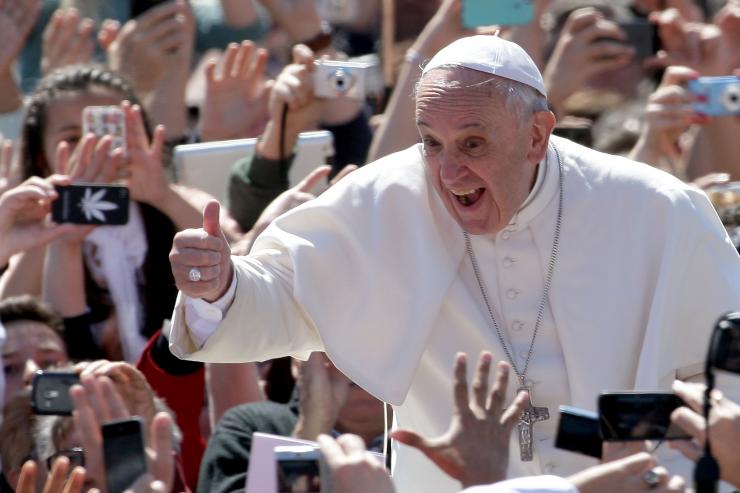 Durkin McCarthy, Staff Writer '18
October 28, 2015
From the moment Ms. Toomb let me know my name had been pulled to join Campus Ministry's Philadelphia trip to see Pope Francis I was excited to make the necessary preparations and get the "road trip" started. Prep was travelling to Philly to join 42 other Jesuit HS from our Ignatian family across the country making their Francis pilgrimage too.
The Prep van pulled into St Joseph's Prep in the City of Brotherly Love on Thursday afternoon where we quickly unpacked and joined in the (already-in-progress) Jesuit HS barbecue. Meeting and mixing with the several hundred Jesuit students from those 42 schools was the perfect way to get the celebration off the ground.  
Following the barbecue, the Jesuit pilgrims congregated in the St Joe's Gesu Church to listen to and reflect on several significant quotations made by Pope Francis. These would serve as the themes of our pilgrimage and the basis of three speeches we would hear during our pilgrimage. Hearing Pope Francis's words served to bond the 350 Jesuit high school students who came to Philadelphia from across America. Even though we come from many different parts of the country and varying walks of life, the universality of Jesuit education being reinforced by Pope Francis's teachings was something we had in common.
The three keynote themes were joy, mercy and sorrow. Joy was the focus of the first speech given by Prep's own Dr. Mike Gomez, '91. Dr. Gomez talked about the great gifts he had been blessed with and how, as a result of his Jesuit education and development at Prep, he found a way to use them for the betterment of those in need. He did this by starting the Cristo Rey High School in Philadelphia. What was especially inspiring to the group was the similarity of his path with ours. So many of the pilgrims are in the same position and have the same opportunity to set the world on fire.
This moving talk immediately stated Prep's strong faithful influence on the pilgrimage. Dr. Gomez's speech was followed by breakout sessions, moderated by priests, teachers and guest speakers. This served as an amazing way to start the weekend.
Friday was filled with similar activities, including free time for a t-shirt swap which allowed the pilgrims to spend time and discuss their school and backgrounds. During this time, we watched the actions of our Holy Father on television as he traveled from Washington to New York and prepared to arrive in Philly.
On Saturday, we celebrated mass in the morning and immediately walked down to Independence Hall where, after several hours of waiting, Pope Francis passed within 15 feet of us! We watched as a young girl sitting near us received a kiss from his Holiness. Being in his presence and at such a close distance was a surreal experience.  While at Independence Hall Pope Francis gave a speech on freedom in America which was fitting being that his speech was given at the same place where the Constitution was drafted. In conclusion of his speech, the Pope led the thousands of spectators in the "Our Father." Later that night, we gathered together in downtown Philly at the festival of families. Here, we not only were able to witness Pope Francis's presence once more, but we also saw Mark Wahlberg and heard performances by the Fray and Aretha Franklin.
Sunday's plan had us attending the Papal mass along with the other 1.5 million Christians that made their own trip to Philadelphia to see Pope Francis. Our vantage point for Sunday's mass was the Ben Franklin Parkway. We were once again blessed to be very close to the Pope's route as he made his way to the altar. He passed just in front of us in his Jeep Wrangler! Hearing him celebrate mass was beautiful and a great thing to experience, especially as we were surrounded by so many others that live and share the faith.
When we returned to St Joe's Prep following mass, we were paid a surprise visit from Fr. James Martin, S.J.  Fr. Martin talked about how Pope Francis is a disciple of the Lord and the closest thing we have on Earth to Jesus's actions.  Hearing one Jesuit talk about another Jesuit in such a way was the perfect way to conclude this holy pilgrimage.