In the Spotlight: Team 5438 – Technological Terrors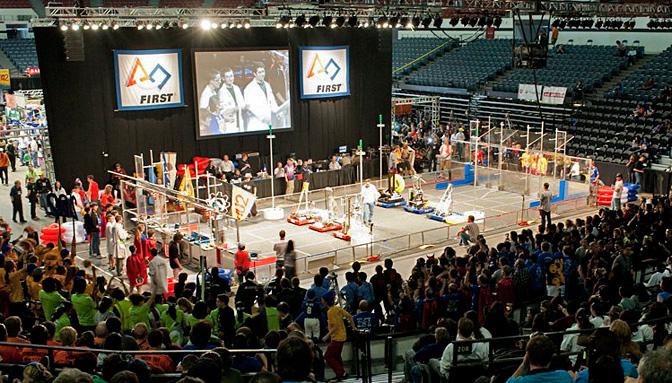 Joaquin Matamis, Nicholas Cao, and Joseph Trombecky, Staff Writers
February 16, 2016
One month into the 2016 season, the Technological Terrors have hit the ground running. Early into the build season, the team has been very active in its pursuit of meeting the season's engineering challenge. Following a rigorous schedule, Team 5438 has only a few days left to carefully design, prototype, program, and build its very own robot for the upcoming 2016 FIRST Robotics Competition.
Clubs and other extracurriculars are a vital part of a Prep student's life. These activities allow students to truly immerse themselves in other fields of study and in subjects that may not be necessarily  covered in the day-to-day classes at St. Peter's Prep. Moreover, these activities provide students with an opportunity to venture out into interesting hobbies that provide more depth to the conventional learnings of Prep. In recent years, the Prep Robotics Club has done a tremendous job to establish itself as one of the more sought-after clubs at St. Peter's Prep. The Robotics Club is a great place to learn about creating and programming robots to compete in large-scale competitions across the country. Team 5438's inaugural season officially began last year as they joined the FRC—FIRST Robotics Competitions—league. Every year, the league challenges schools nationwide to design, build, and program a robot that can respond to a specific task revolving around a central theme.
This year, FRC shook things up by introducing the teams to a medieval-themed challenge titled FIRST Stronghold. This year's competition involves a castle siege-esque game that requires teams to use their robots and capture an enemy castle in order to win. This year, the robots have to be able to withstand and surpass numerous obstacles, while being capable of catapulting projectiles over a tower wall to gain points. The work to design this year's robot promptly began on Saturday, January 9th. The team has met its challenge head on and has worked hard almost everyday since the kickoff. Even though it is only their second year in competition, the Technological Terrors have learned from their experiences last year and look to rebound with an even stronger performance in the coming weeks.
Speaking on behalf of the club's progress, senior and co-captain Nick Furtaig conveyed: "This is a great opportunity to get one foot in the door for STEM [Science, Technology, Engineering, and Math]. Students have shown a tremendous amount of effort in balancing the work for this extracurricular with their own schoolwork. It's really impressive [to see] what we've been able to accomplish."
Mr. Butrym, Team 5438's mentor, also commented, "The dedication is really impressive. You can see that the students are really committed to this [project], as they are willing to sacrifice their weekends and holidays. They put an amazing amount of effort in a short period of time."
The first competition will take place in Tabernacle, New Jersey on March 18-20th. Go out and support the Technoligical Terrors! More information about the team can be found by liking its Facebook page, following its Instagram and Twitter accounts, and visiting its website.