Looking Back on my Prep Career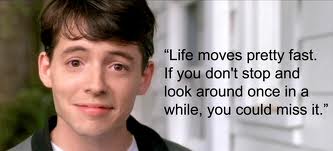 Billy Fitzpatrick, Staff Writer '16
May 26, 2016
As I sit in my first period class, on the last day of high school, I feel definitively at "home." There are some kids recounting the lacrosse win over Don Bosco last night, while others are looking forward to Senior Prom in a week and a half, a handful projecting what college will be like, and a teacher fighting back the tears as she imparts advice on us, a collection of vulnerable 17- and 18-year-old kids. And me? I'm absorbing it all one final time, completely at peace in my mind.
"Glad to have you on board," says one student to another, as they just found out they will be sharing another four years together at the same college. For them, the bonds formed during these four years will perhaps be strengthened in the next stage of their respective journeys. Or maybe they will just exchange pleasantries with each other in the dining hall or library. For me, I have no such choice. I will be a lone wolf next year, the only member of the Prep Class of 2016 to go to the college I chose. After 13 years of Catholic school, I do not know what to expect from a state university. For a while, it was my assumption that these final days of high school marked a conclusion to my time at Saint Peter's. Of course, as the ever present "Prep for Life" phrase reminds us, there are certain elements of a Prep education that remain. Of what those are, I can only form a conjecture.
More than anything, my time at Saint Peter's Prep was challenging. Freshman year brought the obvious challenges that most Prep students face: managing the commute, striking a balance between schoolwork and extracurriculars, and building new friendships. Issues of far more weight came to the forefront of my mind as the years went on. Discussions involving gang violence in Christian Ethics, the use of the atomic bomb in American History, and Hamlet's fatal flaw in Literature introduced me to the complexity of topics that would help shape my beliefs and values. While exploring those areas and hearing different perspectives from fellow classmates was not by any means easy, these were essential steps in my growth as an intellectual and keeper of righteousness in this world. For those discussions and the teachers that brought them forward, I am grateful.
This week, Maj. Gen. Edward Daly, Class of 1983, returned to Prep to talk about his experiences with some of the seniors. While I did not have the opportunity to hear him speak, my history teacher relayed one part of his presentation that struck a particular chord with me. Maj. Gen. Daly told the students that many of the motivational phrases he would drill into his soldiers' heads he did not learn at West Point. Rather, they were messages he first heard from his teachers here at Prep. That personal anecdote is an example of the true education a Prep man receives. Today I heard quips such as "You gotta follow your heart" from Mr. Keating and "Do well and be good to people" from Mr. Geary. During my World History course sophomore year, I can also recall Mr. Coviello making it a point to talk about his life experiences and impart his own advice on us. One phrase especially stood out: "te ipsum," Latin for "Know thyself." Yes, the members of the Class of 2016 are well-versed in various fields of study and will go on to be phenomenal doctors, engineers, politicians, and more. But greater than that, we have been instructed in the arts of chivalry, selflessness, and respect. This is what we mean when we say "men for others."
If I were to sum up all my pieces of advice for Prep men after me to follow, I would have to borrow Mr. Morrissey's mantra: "Sleep when you're dead." Whether it be your buddy's lacrosse game after school on a Tuesday, or a guys' night at one of your friend's house, take every opportunity to be with people and experience the life that you can. That is something I did not do enough of. The Xbox in the basement will always be there. To paraphrase Ferris Bueller, high school moves pretty fast, so make sure you don't miss it.