Play Review: "Is He Dead?"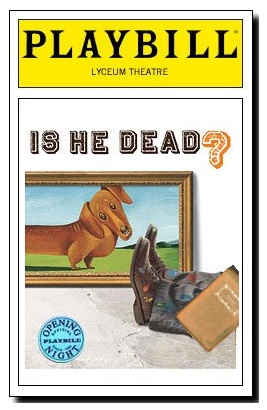 Joseph Trombecky '18, Staff Writer
February 3, 2017
Prep Dramatics has done it again! Performing a skillful and enjoyable adaptation of Mark Twain's comedy Is He Dead? the play was presented between January 13 and January 15. The play happens in the 1840s in Barbizon, France and revolves around a fictional version of the well-known painter Jean-Francois Millet. The dastardly picture dealer Bastien Andre shows no mercy to his debtors: Millet, his close friends ("Chicago," "Dutchy," Phalim), and the Leroux family. However, these characters together have meager funds and cannot earn a sufficient amount in the scant time left. Even with numerous paintings under his belt, Millet lacks success to show for it. Only one buyer shows interest in the paintings, a man named Thorpe, but he refuses to purchase paintings when the creator is alive. Therefore, in a desperate attempt to raise buyer interest, Millet, with the help of friends, fakes his own death then dresses as relative "Daisy Tillou" to collect money from the buyers. Along with the obvious comedic elements, this comedy contains a dramatic and romantic relationship between a member of the Leroux family and Jean Millet, who is unaware that the death is a farce.
With help from actresses from Prep's sister schools, the cast succeeded in adding flavor to the already well-crafted script. The actors and actresses performed each scene with captivating emotion in each line. Seeing the skill of Prep students that I interact with daily was, in a way, inspiring because I know that with such talent the students will go a long way. It was also refreshing to see Ms. Fencik act in the play because her performance shows that all members of Prep's community have hidden talents. However, the actors and actresses are not solely responsible for the play's success. Without a proper background, the setting would lack realism to set the mood and scenes. Thanks to Mr. Gaddy and the work of the stage crew, the scenery was set up properly to fit with the cast's stage directions. During the play as well, the sound and the change in background between acts were fluid. Yet as the cast stated at the final performance in gratitude, director Mr. Dondero deserves the credit for the production and direction of the play. According to them, his guidance and dedication guided and inspired them to put in their fullest effort.
Although every cast member did an undoubtedly flawless job, protagonist Jean Francois-Millet, performed by Nicholas Ramirez '18, was the star. Switching roles between the painter and his doppelganger, widow, Daisy Tillou, Nick's talent was a pleasure to watch.  I had the opportunity of asking him questions regarding the play.
Joseph – How was the process of preparing the play?
Nicholas – "The process for preparing for the play was tedious and stressful but overall enjoyable. There were many bumps we hit along the road. Originally, the Winter comedy was going to be Fools rather than Is He Dead? After not getting the rights to Fools for a few weeks, Mr. Dondero had to look for another play for us to perform in which he found Is He Dead? I personally believe this was better than Fools and was better for the cast overall and more enjoyable for the audience. There were also a couple people who could not do the play, which led us to try to find other actors or actresses last minute to fill in those spots. Rehearsals were long  and for about the first couple months there was mainly a lot of memorization of lines going on, but the acting portion of the play did not come to life till around December. Scheduling rehearsals was hard too as the cast came from many different areas with people who had other activities so coming to a group decision on when to schedule our rehearsals did become tricky at times. Nonetheless, it worked out in the end."
Joseph – Which character did you perform, and how difficult was it matching this character's persona?
Nicholas – "My role in this year's winter comedy was Jean-Francois Millet, a struggling artist, and the Widow Tillou. This was a very interesting mix. Millet's mood throughout Act 1 Scene 1 was that of a more serious tone. However, when becoming the Widow Tillou he was forced to be more lively, outgoing, and somewhat joyful. It was very difficult to become the widow. Keep in mind it is not a woman I am playing; rather, I am playing a man who is acting as a woman. Thus, I was not entirely trying to act as a woman but I was trying to act as a man doing his best impression of a stereotypical woman. The hardest part of my character(s) was trying to go back in forth between a female and male voice and knowing when I had to talk in which way. During rehearsals I'd sometimes talk in the voice of Daisy Tillou when I'm supposed to talk in Millet's voice or vise-versa.
Joseph – Do you feel the cast was able to bring the script to life?
Nicholas – "I feel the cast did an excellent job at bringing the script to life. It was one thing to just read lines in a play and walk around stage and another to act the lines one speaks and give that character an actual voice and a body; I feel the cast did a great job at taking their characters and making them real people. As an example, I believe Malchijah did a great job with his German accent and seeing him continue to get better at it throughout the rehearsals leading up to the play was great. Jason Pope-Bayne did well in bringing the antagonist, Bastien Andre, to life while at the same time giving him some comedic twists. Again, these are just very few examples of how this play came to life. Also, none of this would have been possible without the help and guidance of Mr. Dondero, who really taught us how to breathe life into these characters. Without his input, none of us would have been able to give as much life to these roles as we did. The combination of a great director and a talented cast really allowed this play to be the over-the-top comedy it should be and is what made this Is He Dead? most enjoyable to the audience."
As an individual who hardly sees plays, much less stays awake for them, my captivation by the performance is indicative of the true awe of the play. This production is a prime example of the unending talent found in the Prep community, and I cannot wait to see their next, undoubtedly, hit play.