Prep Dramatics' Puffs Enjoys a Magical Opening Night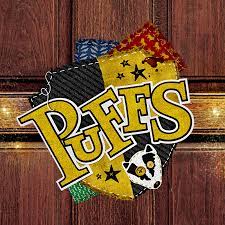 Prep Dramatics' production of Puffs debuted Friday night to an audience of students, faculty, family, and friends. The spectators gathered in the O'Keefe Commons to watch the team of Prep and St. Dominic Academy actors perform at 7:00 PM.
Marko Eliyashevskiy '22 starred as Wayne Hopkins in the main character role, while fellow senior Logan Elliot and St. Dominic Academy senior Lyeba Jadun took the roles of his best friends: Oliver Rivers and Megan Jones. Prep junior Nicholas Connelly served as the quippy narrator and sophomore Francis Garrett played the disparate roles of Cedric Diggory and "Mr. Voldy." Behind the scenes, stage manager and Prep junior Charles Burt expertly wrangled the dynamic audio and lights. Some actors did a fine job out of the spotlight as well: Louis Correro, Bobby Leon Jr., and Owen Meagher — two juniors and a freshman respectively –, were highlights of the show as miscellaneous side characters, along with juniors Sinmi Ajao and Gabriella Perez and freshman Maryann Burt from St. Dom's.
The performance began with a threat from the Dark Lord himself, warning the audience to not use their phones lest they suffer the consequences. Additionally, he declared that there would be no intermission. The two-hour play then truly began; the story followed Wayne Hopkins and his friends through seven "increasingly eventful" years at an unnamed school of magic from the world of Harry Potter (played by Owen Meagher). After the play's epilogue, nineteen years past its ending, the cast members took the stage and bowed. They soon went out to the seating section to mingle with the audience, many of whom had come to see their friends and family perform. Alongside current students and faculty, alumni could be seen milling around after the performance. Even some former faculty had returned!
The showings of Puffs are now over, and Prep Dramatics retreats into the background to prepare for the spring musical.