Pope Francis Visits United States: Spreads Message Americans Can Get Behind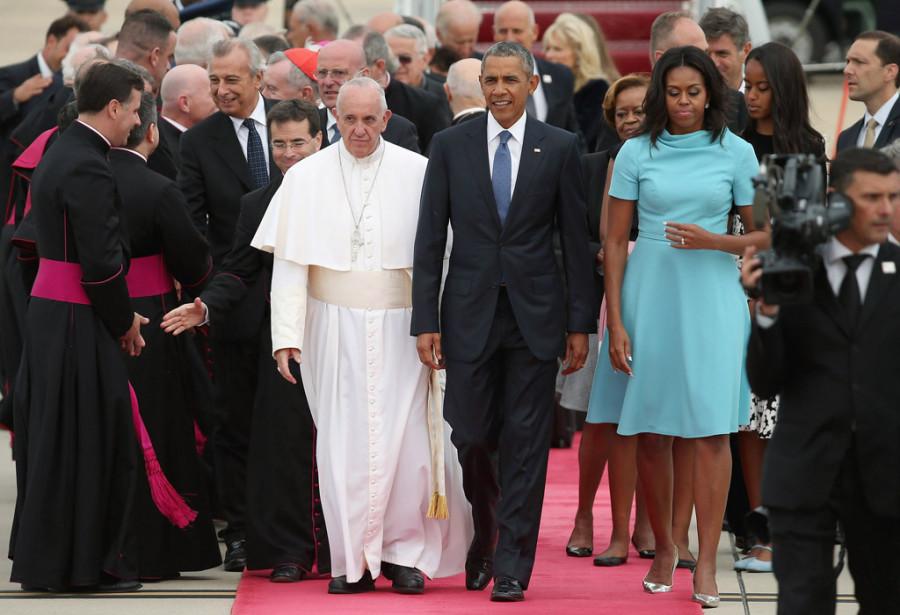 Dominick Mastrodonato, Staff Writer '16
October 28, 2015
The Prep community has heard so much about Pope Francis since his ascendancy to the papacy, many might be surprised to hear that this was only his first visit to the United States. He is unique; at one time, he would have rather gone to countries like Ecuador, Bolivia and Paraguay instead of Italy, France or Germany. He must feel loyal to his home continent, which shows his commitment to solidarity, love and family. The Holy Father's visit is historical as he traveled to three major American cities: Washington DC, New York, Philadelphia, as well as to the Cuban capital of Havana. Many people, even those who aren't Catholic, strong-spiritedly welcomed the Pope with national pride. His Holiness indeed deserves that title for the important message.  
Pope Francis arrived in Havana on September 19th, 2015. He met with the famous former president of Cuba, Fidel Castro, and his brother, Raúl, the current president. The Pope acts as an arbiter between the Caribbean island and the United States. He encourages the Cuban government to make progress and increase diplomatic relationships and negotiations with the US. Before sitting down with the Castro brothers, he offered mass, and also as a duplicate homily, delivered a speech to the president and people present at the Havana airport concerning the current state of Cuba.
After the departure from Cuba, the Jesuit flew into Maryland where he was greeted by the President of the United States and the First Lady. Maryland's Governor, Larry Hogan, who is currently fighting cancer and is undergoing chemotherapy, requested to meet privately with His Holiness and assured his community that he would pray for cancer patients in need.
Following that visit, Pope Francis arrived in the nation's capital on September 22nd and was immediately swarmed by fans, and other spectators. Two days after, by invitation of Republican Speaker of the House, John Boehner, Pope Francis addressed the United States Congress. Congressman Boehner has held the Speaker's seat for 13 years and has waited seven for a pope to speak to Congress. The Pope's speech was emotional for Boehner, but also for the majority of the assembly. In his address, he relates that four American figures from history stand out to him as true vehicles of change: Abraham Lincoln, Martin Luther King Jr., Dorothy Day and Thomas Merton. He believed that these four were progressive enough in their careers that their legacies profoundly promoted liberation of oppressed peoples. After his speech, the Holy Father attended and listened to God's children. As a faithful Christian servant, Pope Francis believes that he must be present to the poor and lowly. The Pope has repeatedly addressed his philosophy as to always to do the right thing to make everyone's lives better, regardless of the opinions or judgments of critics.  
On September 24th, the Pope departed the nation's capital, to arrive in an international capital: New York City.  At 6:45, the pontiff celebrated Mass in St. Patrick's Cathedral, at which a select group of Prep students and faculty were in attendance. It was aired live on television and many viewers were able to watch, who were not able to attend the mass. The next day, Pope Francis conducted another address, this occasion at the United Nations Headquarters. Secretary General Ban Ki-moon introduced him to the press and visitors as His Holiness delivered a few brief words before entering the UN general assembly.  In his speech, spoken in Spanish, to the United Nations representatives, Pope Francis touched on many issues and crises, from refugees, education for females, protection and treatment of AIDS, to the proper use of the planet's resources.