US Election 2020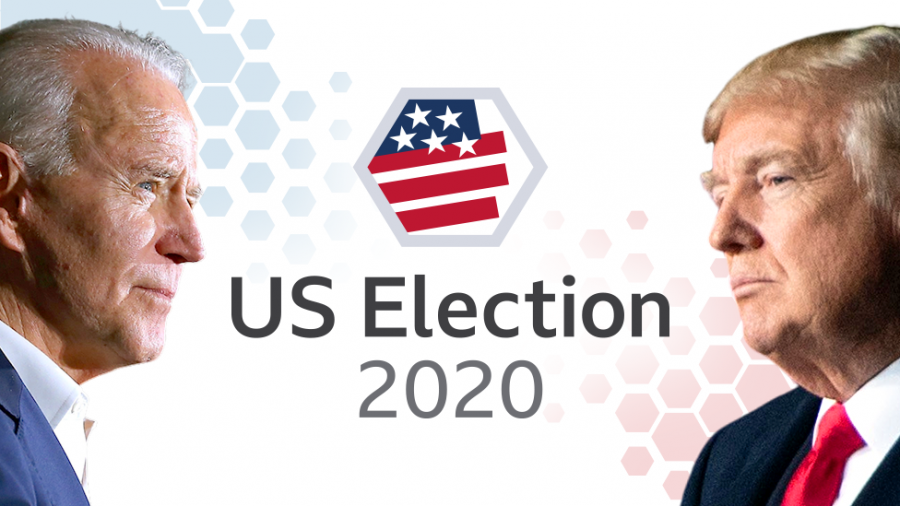 This year's highly divided election cycle started nearly four years ago on January 20th, 2016. It was then, on Inauguration Day, that Donald Trump had already signed for his reelection campaign with the Federal Election Commission. With Trump being the obvious nominee for the Republican Party with little to no opposition, that left the Democratic stage for new and old candidates to run for the nomination. With over 29 major candidates running for the spot, two stood out: Joe Biden and Bernie Sanders. Biden, known for his long career in the Senate and his former vice-presidency, and the long-time Senator Sanders, who has been gaining popularity for his pushing of more progressive programs such as free college and healthcare. Biden was able to take the victory in Democratic Primaries beating Bernie Sanders 70% -30% while seeming to relate much more to the common American person and people who felt apprehensive about some of Sanders's more radical ideas. 
Prior to the Democratic nomination, Trump was facing problems regarding impeachment proceedings put forward by House Democrats concerning a scandal involving the President and Ukraine President Zelensky, which had been "whistleblown" four months earlier in August of 2019. This scandal entailed a phone call in July of 2019 in which Trump had allegedly asked for potentially damaging information against what we can only assume he thought would be his opponent in the general election, Joe Biden. The House put forward two articles on which he would be impeached: Abuse of Power and Obstruction of Congress. Some had called these vague while others "doubled down" on their message of abuse and mishandling of executive power. Regardless, these articles failed to go any further than the House as the Republican majority Senate acquitted Trump of all charges. 
Simultaneously, a new threat was emerging: a global pandemic which we all have come to know as the COVID-19 pandemic caused by the SARS-CoV-2 virus. Trump's chances of reelection were looking bright, running on his populist message and what he had called the "forgotten men and women of America," pushing hard on his achievements of the economy, low unemployment numbers, foreign and domestic policy, and campaign promises. A significant majority of these accomplishments were wiped out by the pandemic's destruction of the economy, which essentially left America in a near-recession. Trump's handling of the virus was received in a very partisan matter, with Democrats claiming his response was slow and ineffective causing unneeded lives to be lost, while Republicans hailed him for being able to provide in-demand resources like ventilators and protective gear. (As a side note, the White House's Coronavirus task force has jointly announced new vaccines from Pfizer and Moderna, claiming to be 90~95% effective in partnership with large pharmaceutical companies. 600 million vaccines have been ordered.) Regardless, Trump continued to receive harsh criticism throughout the pandemic, dividing America more against partisan lines and arguably driving away voters who had been personally affected by COVID. The summer, however, marked an uptick for the POTUS as he was able to regain many of the losses economically in the stock market, through unemployment rates and with paycheck protection. 
His weakening position, along with unpromising poll numbers and losses of years of economic growth, caused Trump's outlook on chances of reelection to plummet. Biden, ironically, took a more conservative approach on campaigning, holding less frequent rallies and pushing for interviews where he could push his message and attack Trump's policies, a strategy that worked well which polling reflected, although he did receive condemnation for his perceived support of some policies such as court-packing which his answers were vague on. This culmination of events continued until October, where the race usually tightens up, and the so-called "October Surprise" (a bombshell event usually uncovered by an opponent or one that can spontaneously occur before the U.S. Election tilting odds) can tilt the odds in a candidate's favor. One such event did occur for Biden when an alleged laptop owned by his son Hunter, known for dealings overseas, was said to suggest that Biden may have also taken part in these dealings, which affected his foreign policy as Vice-President. However, these claims were never truly verified and were unable to grow into the scandal Republicans thought it would, causing little to no harm to Biden's reputation.
At the same time, a long-time giant of the Supreme Court and progressive judge and justice, Ruth Bader Ginsburg, passed away. This left an empty seat for the POTUS and Senate Republicans to squeeze in before the election, nominating and confirming Judge Amy Coney Barret to the seat. 
This all finally climaxed on Election Day, where early numbers showed a short Biden lead that soon turned Red. Trump continued to lead strongly in the night. Other states as well, where large Biden leads were predicted, were only won narrowly. As morning approached, however, and more mail-in ballots arrived which tended to lean Blue, Trump's lead continued to narrow. Some states, notably Georgia and Pennsylvania, flipped, costing Trump the election and giving Biden a large electoral lead. As this occurred, stories of voter irregularities and possible voter fraud continued to trickle in, especially concerning mail-in ballots. The Trump team took up legal action in many of these tight swing states losing most major cases. However, until now and after many recounts, they still have been unable to flip any states or cause a large denigrating dent to any of Biden's leads. This brings us to where we are today, where Biden is the projected President-Elect defeating Donald Trump in a historical, divisive election.
— Nofer Tadros '24
After another election dubbed "the most important of our lifetimes," Joe Biden will be the next POTUS, the 46th such person to hold America's highest office. The transition between these two elected officials is possibly the greatest dichotomy between alternate candidates in the history of our country: from a businessman inexperienced in politics who claims to speak for the "forgotten people" of America to a return toward the embodiment of the establishment, a career "politician" according to Donald Trump. Surely, Biden will restore a calmer and more respectful persona in his dealings with others — both on national and foreign levels — contrary to the persona of Trump. Their economic and social ideologies mix as well as water and oil. 
Biden's entire campaign ran as the antithesis of Trump's presidency, hoping to appeal to all those who had gone against contemporary voting patterns by voting for Trump in 2016 and claiming this as the 'Battle for the Soul of the Nation.' Evidently, this sentiment has proven enough for Biden to receive victory despite, for some, unattractive aspects: his age, his 44 combined years as a state senator and VP, and his lack of appeal to the growing base of progressives in his party as well as the conservatives on the other end of the political spectrum. Regardless, on January 20th of next year Biden will put all his knowledge, political acumen and experience towards a certainly momentous test for our great nation. The former VP under the Obama administration will face, among other things a once-in-a-lifetime pandemic which shows no signs of slowing down, demands for racial justice and equality, calls for swift and decisive action on climate change and the necessity of creating jobs which have been lost due either to the pandemic or to globalization. One might say that Biden is coming into office facing the largest slate of complex issues since Abraham Lincoln in 1860. Whatever the case, Biden will be playing from behind, especially with the results of the entire House of Representatives and many Senate seats up for election. 
The Democratic Party retained control of the House, yet was not fully satisfied as they lost several seats to Republican challengers. In the Senate, 70 seats were up for grabs and there were several close races. A few flipped seats in favor of each party. However, the suspense saunters still as the fate of whether Mitch McConnell or Chuck Schumer will be the Majority Leader. The Democrats must win both seats to force a 50-50 split between the two parties and have VP-elect Kamala Harris be the tie-breaking vote; the Republicans need but one victory of the two, and they will prevent what many were expecting to be a Blue Wave: the Democrats winning both chambers of Congress and the Presidency. If the Republicans do indeed come out victorious in one of the races, the Senate will be the stop-gap.
If the Republicans do retain control of the Senate, Biden will be near-powerless to push through numerous reforms which he promised throughout his campaign. Objectives such as adding a public option under the ACA (commonly known as Obamacare), implementing immigration and gun reform, and repealing Trump's Tax Cuts and Jobs Act of 2017 will likely be the subject of much polarized debate. Further crucial agenda points such as climate change response and criminal justice reform may also be grounded to a standstill if the GOP holds onto the upper chamber. 
In light of this, Biden will have to heavily rely on his inherent executive powers to enforce the parts of his agenda which fall under presidential jurisdiction. He will do this through the power of executive orders which are independent of Congressional politics. He has promised many first-day actions which will magnanimously reshape American foreign policy: reentry into the Paris Agreement, the Iran Nuclear Deal and the World Health Organization (WHO), as well as allowing the children of illegal immigrants, or "Dreamers," to stay in the United States without fear of deportation and ending current travel bans on 13 Muslim countries. 
The 46th President's main focus will rightfully be COVID-19 (SARS-CoV-2) pandemic and its effects on American life. Biden will undoubtedly need to continue increasing testing and its availability, manufacturing and distributing personal protective equipment (PPE), restricting international travel and advising against domestic, implementing health guidelines for individuals and businesses, creating a coronavirus task force, and putting many resources toward the development of a vaccine. Biden will also expand on these practices by trying to implement a national mask mandate and to compel a likely divided Congress to send another relief bill to Biden's desk, expanding federal health and economic relief for families and businesses, and increasing America's role in the global response to the pandemic. Surely the Biden administration will institute a stronger federal role here at home in response to the growing magnitude of COVID-19 after the Trump administration slowly imparted greater responsibility to the states over the past few months. It remains to be seen if this strategy is the answer. 
Despite an extensive presidential agenda which Biden and his team have available for all to view, not all questions have been answered. In the last few weeks before and up to the election, Biden was pressured to say if he would approve of the implementation of expanding the number of the justices on the Supreme Court. The Democrats have also mulled granting statehood to Washington, D.C. and Puerto Rico.
The Biden campaign ran as the antithesis of the last four years. It harkened upon the "return to normalcy" call which many have utilized before. This election is the result of one of the most politically divided periods in our nation's history and will not bring unity just because Trump will leave office in January. Over 74 million people voted for Trump; they are not going anywhere. The road to healing the hyper-partisanship in our country will be an extremely long one, and it may take decades, perhaps generations. We all must hope that Biden will be the next great POTUS and that he will lead us out of this crisis, back to normalcy.
— Alex Puhak