How Did Democrats Flip Georgia?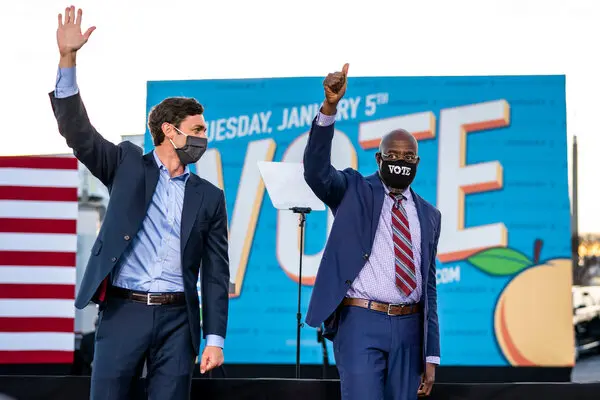 January 5th, 2021 will be remembered as a momentous day for the Democratic Party. Voters in Georgia's Senate runoff elections elected Reverend Raphael Warnock and Jon Ossof to the United States Senate, making them the first Democratic senators to represent the state in 21 years. Warnock defeated his opponent Kelly Loeffler by more than 93,000 votes, while Ossoff's triumph over David Perdue was narrower at just over 54,000. Both of their victories have now allowed their party to obtain the Senate majority, easing the Biden administration's efforts to pass legislation. Georgia has historically been a stronghold of the Republican Party, making its Democratic flip a surprise to many. So, how exactly did Democrats achieve this feat?
Fewer voters generally cast ballots in runoff elections, as was the case on this occasion. Turnout in Republican-majority counties remained relatively strong. However, the turnout of white voters overall dropped by higher margins than that of black voters. The black vote, especially in the suburbs of Atlanta, appeared in droves, propelling Ossoff and Warnock to win by margins succeeding the threshold for a recount. This phenomenon was a result of the work of voting rights groups in Georgia for the last ten years, namely those of former Georgia gubernatorial candidate Stacey Abrams. Her efforts began with the New Georgia Project and have now evolved into her new organization, Fair Right, which she founded after claiming that suppression of black voters contributed to her loss in her 2018 race for governor. Fair Right, New Georgia Project, and other voting rights groups have worked tirelessly to send texts, make phone calls, and canvass neighborhoods to register black voters and remind them to cast their ballots. Additionally, both Democratic candidates spent a combined $829 million dollars on their campaigns, making them the most costly Senate campaigns in American history. The investments paid off though, allowing them to reach a large number of Georgian voters in important counties.
However, campaign efforts and voter rights groups didn't lay all the groundwork for Warnock and Ossoff's victories. The growth of Atlanta suburbs over the last four years as a result of many fleeing the city has brought a flurry of left-leaning voters into these counties. This increase of Democratic influence in suburban counties has only been exacerbated by former President Donald Trump as well, a worrying signal for the Republican Party. Trump's constant, false claims of voter fraud, his phone call to the Georgia Secretary of State, and his rash comments throughout his presidency have led to mistrust from Georgia voters, mainly suburban women and mothers.
With the 2022 midterm elections approaching, Democrats look to flip other Republican states as well. Since they now hold power at both the Executive and Legislative levels of the federal government, they must prove to the American people that they have the ability to fulfill promises from the campaign trail and lift America out of its misery from the COVID-19 pandemic in order to keep chances of victory high. That leaves us with the essential question: will Democrats be able to sustain their success in Georgia and other swing states, or will the GOP sweep the polls in 2022 and 2024?