Biden's State of the Union Address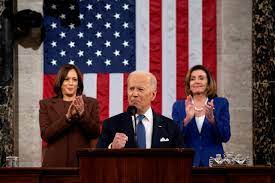 On Tuesday, President Joe Biden gave his State of the Union address to the American people. In the speech, he highlighted the various facets of American progress in infrastructure, the economy, jobs, the Ukrainian conflict, technology, and the pandemic.
The first point he addressed was America's support of Ukraine. It can be hypothesized that Biden highlighted the Ukrainian conflict first in order to show Ukraine as America's first priority. He mentioned the various sanctions that are being put in place, both by the US and its NATO allies. These sanctions mainly target Russian financial institutions and export – the ruble has fallen close to record lows, the MOEX stock index fund has crashed, plummeting 50% and losing over $150 billion in value.
The next topic on Biden's list was the "America Rescue Plan." This is a push towards lower unemployment, and the expansion of more jobs, higher pay, and eventually aimed to decrease poverty throughout the nation. So far, 6.5 million new jobs have been created, and unemployment has fallen by 2%.
A big complaint on the tip of many Americans' tongues is the country's broken infrastructure. Bridges have collapsed, roads are exceedingly bumpy, and buildings in poorer areas are dilapidated. Thus, Biden passed the Bipartisan Infrastructure Law. The bill is an overhaul of the government spending budget, and Biden promises 500,000 electric vehicles charging stations, the modernization of roads, airports, and waterways, the repairing of 65,000 miles of highway, and 1,500 bridges. Additionally, he pledges to clean the "poisonous lead pipes" that provide drinking water for many parts of the country.
Biden also plans to "level the playing field" with the Bipartisian Innovation Act. With this act, acres of empty land will be populated with Intel's semiconductor (called "mega site"), while factories and additional funds will be invested in the development of new technologies. Almost 370,000 new manufacturing jobs have been created in America last year, and Biden wants to continue that trend. However, Biden did not provide much information about the environmental neutrality (or lack thereof) of these factories. Biden wants to tackle inflation, through "[making] more cars and semiconductors in America, more infrastructure and innovation in America, more goods moving faster and cheaper in America, more jobs where you can earn a good living in America."
While these improvements seem beneficial, many Americans do not see eye to eye. Today, Biden's approval rating sat at a paltry 40%, a new low. This has to do mostly with Biden's treatment of Russia, which some Americans deem laissez-faire. Regardless, we should stay on the lookout for new, positive changes in infrastructure. And hey, with new roads, maybe you can finally drink a coffee without spilling it on the back seat of your car!