The New Face of the United Kingdom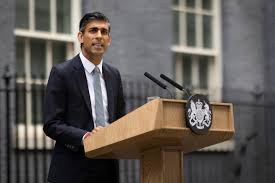 On the 25th of October, 42-year-old Rishi Sunak became the first non-white Prime Minister in the UK's history. "It's a Barack Obama moment for us," exclaims Sanjay Chandarana, the president of the Vedic Society Hindu Temple in Southampton. Sunak is of Indian origin, and acts as a 'living bridge' between India and the UK" (CNN). This comes after Liz Truss's disastrous economic policies that led to her swift resignation from office. Sunak's main opponent was Penny Mourdaunt, the leader of the House of Commons. She failed to accumulate the necessary amount of nominations from lawmakers to progress into the next stage of the race. 
Sunak has enjoyed a quick rise to power, starting with his election to Parliament in 2015, continuing with his role as junior minister in 2017, and further accelerated by his ascent to treasurer and chancellor by Boris Johnson's appointment in 2020. However, those in opposing parties criticize the way he came to power. Since Sunak is a conservative, the largest party in the UK, he did not have to compete in a general election for prime minister. A general election, mentions Angela Rayner, leader of the Labour Party, allows "the public [to] get a say on the future of Britain." This applies especially to Scotland, because the general election is one of the key ways that Scotish voices are heard in the world of UK politics. Nicola Sturgeon, First Minister of Scotland, mentions that his fellow Scottish citizens have repeatedly been denied a voice in the election of a Prime Minister. Sunak is simply "another PM we did not and, without doubt would not [sic] vote for even if given the chance," he says. Out of the last five prime ministers, four were elected without a general election.
Election and identity aside, Sunak comes to office amidst a large economic dilemma that was heightened by Liz Truss during her short time in power. "I want to pay tribute to my predecessor Liz Truss," said Sunak, "But some mistakes were made. Not born of ill will or bad intentions. Quite the opposite, in fact. But mistakes nonetheless." He wants his policy to prioritize economic stability through a conservative lens. He hopes to decrease government spending and raise taxes to cover the £40 million costs of inflation and revitalize a sluggish economy. Sunak has kept Jeremy Hunt as the chancellor, who has played a key role in keeping the markets intact after unfunded tax cuts from Kwasi Kwarteng, former chancellor. He hoped to present a complete solution on October 31st, but this was pushed back to November 17th to allow for more conversation between Sunak and Hunt and to adjust for updated economic forecasts. The plan, mentioned Lady Penn, is expected to decrease the country's debt "in the medium-term"  to promote economic stability. Right now, information is limited, and much is still speculation. To make things worse, Sunak is forced to inherit a broken conservative party, to whom he must stay in favor to make considerable progress. Regardless, the next few weeks will prove paramount to safeguarding the UK's economy, and the unification of a fractured country.