College Football Playoff Expansion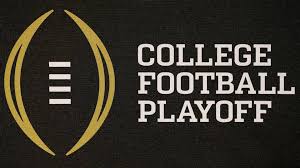 The College Football Playoff was instituted in 2014, bringing massive change to a sport hallmarked by traditionalism. The four-team playoff was a radical change from the previous system in which subjective human and computer polls choose the top two teams in the country. Those teams then played a single game to decide the National Champion. However, each year there would be a consistent debate over what factored into one team being placed over another for the coveted #1 and #2 spots. There would always be one or two teams that felt they were deserving of a title game birth.
The logical solution to that issue came in the way of the College Football Playoff. Two semi-finals would be held between four teams, and the winners would then play for the National Title. It seemed to be a perfect fix: The selection committee wouldn't have to worry about omitting top teams, and it would theoretically allow everyone qualified to be given the chance to win the title. A constant in the world of sports, controversy soon emerged. The committee who chooses the four participants found it increasingly difficult to decide which teams were worthy of a spot, as they had to weigh teams that suffered losses versus tougher schedules against teams that hadn't lost, but played weaker teams. This was epitomized last year when the committee chose Alabama (who dropped a mere one game against Auburn) over UCF (an undefeated situated in a far weaker conference).
This sparked debate among the college football community with some defending Alabama, contending that UCF could have barely gone 6-6 in the Crimson Tide's conference (the SEC), and others arguing in favor of UCF's inclusion, countering that the Knights shouldn't have been judged based on a schedule created five years prior. UCF further advanced these debates by crowning themselves "National Champions" based upon their undefeated season, releasing "Knights 2018 National Champions" merchandise as well as unveiling a commemorative banner at their stadium. While mocked by many, UCF helped to bring this issue to the forefront of the college football world. They made it impossible for anyone to ignore undefeated non-power conference teams.
It's undisputed that the Playoff is a better system than its BCS counterpart. It's more inclusive, exciting, and gets higher ratings. However, it would be ignorant to not at least contemplate some potential amendments to it. One potential edit would be to add more teams to the playoffs; hypothetically, if all deserving teams get a spot, it could generate interest in otherwise unwatched bowl games. However, the quality of the teams in the competition would be diluted, and the debate between the influence of a team being in a top conference would ensue without a rigid structure governing the inclusion of certain teams. Realistically, the College Football Playoff system will never be perfect nor please everybody. But regardless of whether any changes actually get made, there should at least be dialogue as to how the system can be improved.