The 'Superteams' of the NBA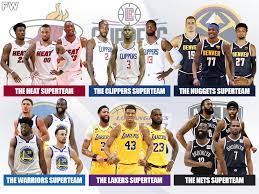 You may have heard the term "superteam" tossed around in conversation when talking about the NBA. They are a hot topic when it comes to the league today and will continue to have a dominant presence in the sport. Let's start with what a superteam is: a team consisting of many star players in an attempt to win a championship. The first superteam would be the Bulls with Jordan, Pippen, and Rodman; this squad had three star players that took a run at many titles.
Usually, superteams come in threes, and those can also be called 'big-three' teams. An example of another big-three is when Lebron James, Chris Bosh, and Dwayne Wade teamed up for the Heat. Its in this moment that superteams started to evolve.
The Warriors took it to a whole new level with their team. The best players were Stephen Curry, Klay Thompson, and Draymond Green. This was a dominant force in the basketball world with a defensive leader in Green and two elite shooters in Curry and Thompson. Then, they signed Kevin Durant a few years later and won titles with ease. Then, it all came down in a hurry. Durant and Thompson both went down with season-ending injuries, and then the next year Durant went off to sign with the Brooklyn Nets. The following year Curry's season was ended by a knee injury and Thompson sat out the whole year, still recovering from his own leg injury. That left Draymond Green, who seemed to look terrible without any star players helping him out. His flaws were greatly shown and he is not the player he once was. Even though the Warriors have a shot at making this a comeback year, my point is that superteams go all-in with a small, fleeting window. Can it work? Sure. It's awesome when you get to see one team perform like this, and it is so fun to watch them play. Because the possibility is there for immediate success, other NBA teams caught on and are trying to do the same.
This all creates a problem for the NBA.
The problem for the NBA is that there is a fine line between the good teams and the bad. Of course, there can only be one winner in the NBA. Before, it was easy for fans to root for the best team without any doubt in their mind that they would win the championship, and there would be no frustration for them throughout the season. Now, it is impossible for people to do that because the league is so unpredictable. Nobody speaks about it, but the NBA is losing fans because there is no room for a bandwagon fan anymore. 
Anyway, there are too many of what I would consider superteams right now. Some of these superteams are the Lakers, Clippers, 76ers, Celtics, Nuggets, Nets, Raptors, and the Heat. Again, only one team can get the championship, so it is an utter disappointment if your team loses. In my experience as a Sixers fan, once my team loses I don't fully watch any of the games for the rest of the playoffs. I am frustrated with my team, and I'm sure a lot of people feel the same way when their team doesn't win after a great run. The playoffs don't really interest you if your team isn't competing in it.
Another part of this problem is that some teams are going through what is sometimes called "The Process," which was popularized by the Sixers during their roughest years. During this period, the Sixers intentionally tanked for draft capital.For three straight years, the Sixers stayed under the 20-win mark. Now, they are considered a superteam and will contend for the title this year. The Process doesn't work if many teams do it, which drags it out for many seasons. In my book, the Bulls, Cavaliers, Hawks, Knicks, Pistons, Pelicans, Hornets, and Kings are all going through this period. These teams didn't really come close to making the playoffs, and only one of them can get the top pick. Unfortunately, none of these teams even got inside the top two of picks, which means that most of these teams will go on for another season playing poorly. This is tough to watch for any fan because everyone wants to see their team succeed. There is no point in watching your team constantly lose, which is the reason why the NBA is losing viewers.
Notice how there are very few teams that aren't categorized as either superteams or going through a sizable rebuild. When it comes down to things, there are only a select number of people that really pay attention to basketball as it goes on further. The only people who are interested are casual fans and fans of teams that are still in. To conclude, even though basketball is certainly the hottest sport in the country second maybe to the NFL, it also has a big problem when it comes to the league itself. There is no foreseeable way to stop this superteam trend, and it will only get worse as time goes on; the NBA needs to find a way to fix this, but nobody can think of a solution.