Different Approaches: Chiefs and Patriots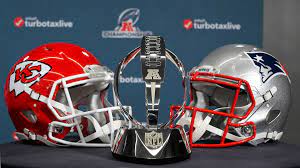 What is football if not fun?
People have fun watching it, betting on it, playing it, talking about it. It's a game that so many people love and cherish. For professional athletes the game can be fun, but a week of preparation can be demoralizing and kill joy if you lose on Sunday. Even with losses you have to have fun in the process.The Patriots organization under Bill Belichick has long been known for its strict and team-oriented view. This means that players would not be singled out or given praise. The main issue with the Patriots was that they were not having fun day-to-day and this is was what apparently drove the greatest quarterback of all, Tom Brady, out of town and down to Tampa Bay. Belichek built this team with a game managing, non big play oriented offense in mind. They had to fight and scratch for every win. Stress every week and no time for dancing and high fives doesn't sound fun. 
The Chiefs lost badly in the Superbowl 31-9. It was the first NFL game that Patrick Mahomes had been completely neutralized. Up until the Superbowl however, it seemed the Chiefs were on track to repeat as champions. Through Weeks 8-16 the Chiefs went 7-0, but the biggest win margin during this stretch was six. The simple reason for this underachieving nature was the Chiefs were experimenting. Similar to the Golden State Warriors with KD, Steph Curry and Klay Thompson, the Chiefs knew they were going to make the playoffs and they were going to be favored to win it all. The Chiefs weren't worried about blowing out each of their opponents during this stretch (even though they could); it seemed they were bored and wanted to try new things. For example, during a Week 16 game against the 4-10 Atlanta Falcons, the Chiefs were down by seven and had a 4th and 1. Andy Reid called a trick play involving Patrick Mahomes running a route to catch a pass. They were not playing to their ceiling. Can you imagine this happening in a playoff game? This was just a fun play. The Chiefs had an all-star roster and they knew they were going to win games; they were focused on having fun. They were focused on letting Mahomes throw the ball deep and make plays. And although they reigned it in a little during the playoffs, the Chiefs were still having fun and playing loose. Mahomes would throw a 60-yard touchdown and then start laughing with Andy Reid on the sideline. I don't think Tom and Bill would do this. 
If you study for hours and hours and don't come out of your room, while getting a 100 on a test would be relieving, would it really qualify as fun? Tom Brady and the Patriots would grind and grind all season long, but at the end of the season could they really look back and think it was a fun time? I'm sure Tom Brady enjoys the rings, but what about the day-to-day life? Even though the Chiefs did not repeat or accomplish the end goal, I know that team had a fun season. My point is this: the Chiefs were great with ease and tallied wins without grinding or running the ball 30 times a game. They would be dancing on the sideline, doing insane trick plays and just loving the craft. The Chiefs are not better than the Patriots in their prime when it comes to wins, but they seem to enjoy their time together more.