Mark Armstrong Becomes Prep's All-Time Top Basketball Scorer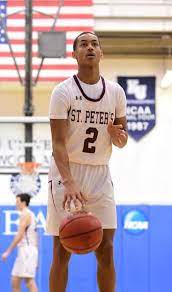 On Saturday, February 28th, senior Mark Armstrong smashed an athletic record that had been held for 30 years when he scored 31 points during Prep's loss to Hudson Catholic. The result in the HCIAL final at High Tech High School ended Prep's hopes of sweeping county sports ahead of state competition. Armstrong's performance brought his points' total to 1,718, placing him 26 points ahead of Jack Gordon '92, the previous record holder.
"Mark's accomplishment really shows that Prep magic," said teammate Bryce Anderson '23. "His constant commitment and work ethic exhibit his greatness on the hardwood." Armstrong was recognized for his achievement with a banner declaring "#2 is #1" in the Barn.
"Mark Armstrong's commitment to the team these past four years was excellent. He worked extremely hard to put St. Peter's Prep on the map. He is arguably the best player to ever play at St. Peter's Prep," said Prep Basketball coach Alex Mirabel. "He was a great leader on the court. He raised the level of play for the program. We are very thankful for his family for trusting us as a staff. The best is yet to come for Mark at Villanova."
The basketball season ended March 7 with a semifinal loss to Bergen Catholic.