Super Bowl LVII: Summary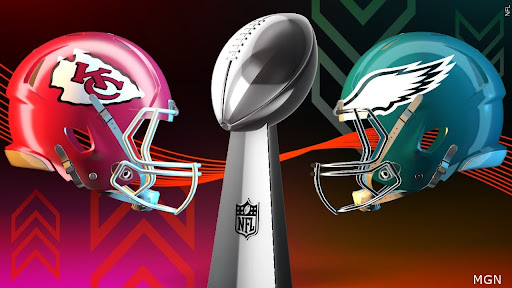 Super Bowl Sunday!
One of the most watched televised events, the Super Bowl is something (almost) all of America looks forward to. From the fun parties, the signature food and the game itself, Super Bowl Sunday is a great day. Now let's dive into the two teams, how the game panned out, and the traditions.
This year's Super Bowl included the winner of the AFC: the Kansas City Chiefs. The Chiefs are led by MVP Patrick Mahomes, along with many weapons including Travis Kelce, Chris Jones and mastermind Andy Reid at coach. The NFC champs coming into this game were the Philadelphia Eagles. Capping off the regular season with an astonishing 14-3 record, the Eagles stormed through the competition in the playoffs. Led by star QB Jalen Hurts and loaded on both sides of the ball, the Eagles were a nightmare to all opponents.
The 1st quarter ended 7-7. Both teams had great drives down the field, while near-lockdown defense kept this game at seven a piece. Ending the half with a few strong drives, the Eagles took the lead 24-14 before Rihanna's performance. The halftime show had some mixed reviews; some said it was amazing with others not agreeing at all. Personally, the halftime show needed improvement, but was still quite interesting. One large factor of the show was not the performance itself, but Rihanna's reveal that she is pregnant with her second child.
The Chiefs started to look a little better after halftime, cutting the Philly lead to only six points before the fourth quarter. At that given moment, you would have to believe that Jalen Hurts and the Eagles would be able to close out the game. Unfortunately for the Eagles, that was not the case. Mahomes and the Chiefs came out firing during the fourth, making it a close game and taking the lead. Although Hurts led the Eagles with a great drive for a touchdown topped by a two-point conversion to tie the game, there was still time left on the clock. The Chiefs drove down the field, draining the clock and leading themselves into the red zone with about two minutes left. The Eagles desperately needed a stop, and got one on third down to force a field goal opportunity. However, a very controversial holding penalty gave the Chiefs a first down and led to a game-winning field goal by Harrison Butker. Mahomes was given the Super Bowl MVP award and took the Lombardi trophy home for a second time.
Ultimately, this Super Bowl was quite the game to watch and did not disappoint — except for Eagles fans, that is.